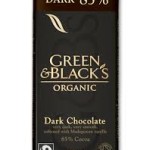 Today I have included another recipe – this time for a healthy dessert. Now you'll be prepared for National Chocolate day…
This Chocolate Mousse is delicious! I made it just last week for a gathering of friends and there was none left; we ate every bit of it! This tasty treat, along with another, will be available for you to taste at my presentation on Fabulously Delicious Healthy Food, at the Cancer House of Hope in West Springfield on Wednesday Nov 4th. Come join the fun if you are in the area! There may be a video available afterwards, and if so, I will post a link for those who can't make it to this presentation. Unfortunately, since they haven't figured out the "Scotty Beam Me Up" thing yet, those who watch the presentation on video will not be able to enjoy the tasty treats, but the recipes are available for you to make them yourself!
Chocolate Mousse, from "The Cancer Survivors Guide."
This is a much more healthful version of the high fat, high calorie French delicacy. Chocolate contains important antioxidants that help the body fight off cancer and heart disease. AND, best of all, it takes less than 5 minutes to prepare!
Ingredients:
1 cup semisweet chocolate chips
1 cup nondairy milk (I use unsweetened almond or coconut)
2 – 12 ounce packages of silken tofu
1 teaspoon vanilla extract
Raspberries (or your favorite berry)
Directions:
Combine the chocolate chips and milk in a microwave safe bowl and cook on high for 1 minute. Let rest for 2 minutes. You can also cook the chips and milk in a double boiler over gently simmering water if you prefer not to use a microwave.

Transfer the chip mixture to your blender, add tofu and vanilla, and process until smooth

Pour into individual bowls and refrigerate for at least 2 hours (this can keep in the fridge for up to 3 days)

Top with a couple of raspberries and serve.

Yummmmm!
Best of Health,
Kathi