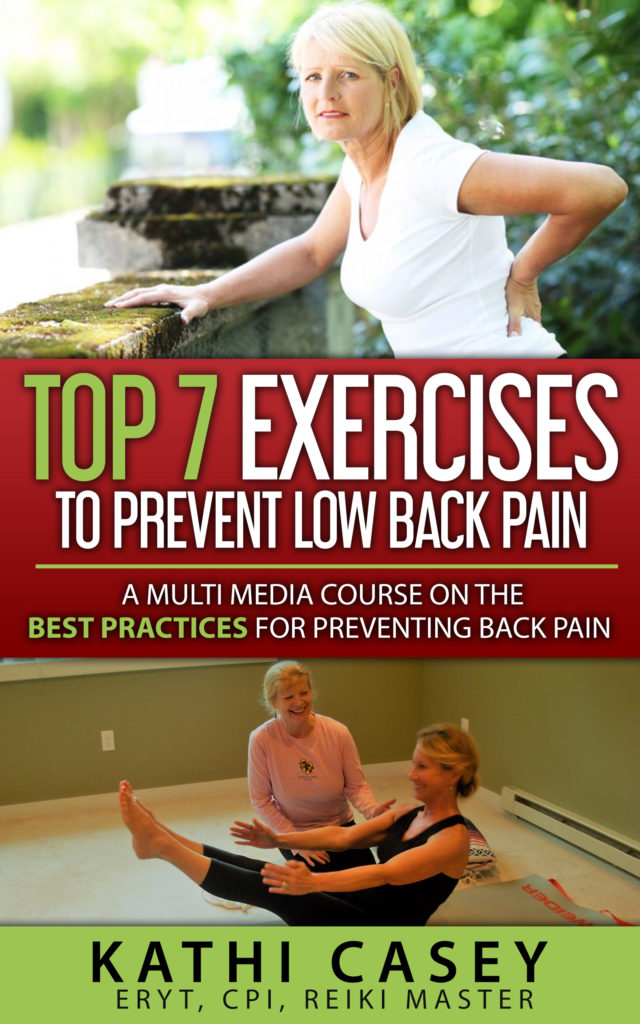 Top 7 Exercises To Prevent Low Back Pain!
Do you suffer from low back pain?
Have you tried other treatment options that didn't work?
Do you want to learn 7 simple exercises which can prevent or reduce your back pain so you can move with ease again?
Stephen is glad that he did!
"I was in such pain when I contacted Kathi that I wasn't sure anyone could really help me. Kathi got to the bottom of what was causing my pain, designed an exercise program for me that has made my entire spine stronger and healthier and, best of all, NO MORE PAIN!"  Stephen H.
Back pain can range from being uncomfortable to totally debilitating. It can affect us at any time of life and even show up after a very minor injury. The pain can often be with us for years, and when we resort to taking drugs for the pain it doesn't really tackle the root cause.
With my course "Top 7 Exercises to Prevent Low Back Pain", you can finally start to address the causes and not just mask the symptoms, with actionable information that examines:
The mechanics of your body
Getting your posture right
Specific exercises for each imbalance in your body
The dangers of sitting all day and how to combat it
Relaxation techniques
And lots more…
Back pain can be miserable but becoming addicted to opioids is a really bad tradeoff. With Top 7 Exercises to Prevent Back Pain you can relieve your back pain without becoming hooked on dangerous painkilling drugs.
These exercises are demonstrated in video format with modifications so that they can be done by, virtually, anyone!
Don't rely on simply masking your pain symptom. Get to the cause of that pain and make sure you prevent it from coming back with these 7 simple exercises. They will change your life!
In this multi-media course, you will discover the simple habits or patterns in your daily activities that could be causing your pain; how to discover which one describes you, and then the specific exercises that will help you to heal, align, and keep your pain from coming back!
All For Only $59.99!
Order Yours

HERE!