The other day on my journey to teach Gentle Therapeutic Yoga, I was visited by a flock of turkeys – well actually, a family of them. I saw mom, dad, and several younger ones. Dad was attempting to cross the road and was nearly hit by the car in front of me. He stayed on the opposite side of the road after that scare, while mom and the children headed off into a nearby field. I'm sure he caught up with them eventually, unless the hawks decided he was small enough for them to carry off. I really love living in the country. The peace and quiet, the sound of the loons enjoying the lake on a summer evening, all the wildlife that is abundant in our beautiful Berkshires speaks to my soul. And when our souls or spirits are singing in harmony with nature, all those stress hormones begin leaving our body, improving our mood, lowering blood pressure, and protecting our brains! How cool is that!?
Most of us know that meditation is a good habit to start, and that a daily practice can help rid our bodies of stress hormones, but recent studies have shown that crafting and coloring can have the same effect. Knitting, sculpting, drawing, and other creative processes can put our mind, "in the zone," which causes the parasympathetic systems in our body to take over. Anxiety, depression, and grief are reduced, and most people find that time goes by much more quickly. So, find those old knitting needles that you stored in the attic. Get out that box of crayolas your grandkids play with and use them yourself! Have some "playtime" and reap the benefits for your body, mind, and soul.
I'm thinking of drawing and then coloring these mushrooms I found in my yard – pretty colorful, huh?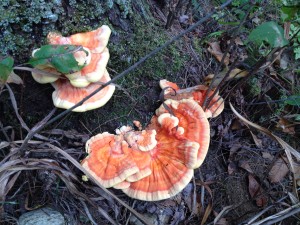 Best of Health,
Kathi