Wow, today is 10-17-17. That seems crazy to write. How did it get to be 2017? Where have I been since singing along with Jimmy Buffet "where the party will be on Jan 1, 2001"? The years have flown by and now I'm 65. (Paul McCartney reached this age long before I did, and he still looks pretty good!)
How do you feel about your age? Do you wonder if you'll have the time and money to do all the things you want to before leaving the planet? Have you made any decisions about what you'll do in retirement? Are you downsizing so your kids won't have to rent one of those HUGE dumpsters to clear out your house after you've gone? We had to rent THREE of those construction dumpsters to clear out my parent's house…
I have been doing all of these things for about a year now. Clearing out the house has been the most difficult goal for me. I was the one who saved my grandmother's bowls, great aunt Catherine's candy dish, the rocking chair Aunt Belle brought home on the bus and then carried on her head as she walked the 2 miles to her house… You get the idea. But this younger generation does not seem to have the same sentiments about all these family items as ours did. None of the nieces and nephews, or their children, want any of these things, so I'm slowly bringing all of them to the "Re-Store," which is part of Habitat For Humanity. It's been a journey, I will admit that. I'm glad that I made the decision to take one box a month, as I have put some things back on the shelf, and then a month or two later, taken them down and let them go.
I have also asked my kids about certain things they may want to have when I'm gone and am putting their name on the bottom of each of those items. They are in their 30's, with their whole lives ahead of them, and don't really want to talk about the end of my life; it's uncomfortable for them. Again, I'm glad that I am going slowly with all these things. I let them think about something for a while and bring it back up again several weeks later. This is a process that's going to take a while.
I'd love to hear from you about this topic. What have you done so far in planning ahead?
Are you stuck and haven't done anything at all yet? Maybe you don't want to think about it either?
Well, as Nanea Hoffman once put on her coffee mugs, "none of us are getting out of here alive…" It's time to come face to face with these hard to discuss matters, as well as planning our walking on the shore, climbing that mountain, etc. We can continue our discussion through the comments section or via e-mail replies. I can even set up a private Facebook page if you want to. Let me know your thoughts.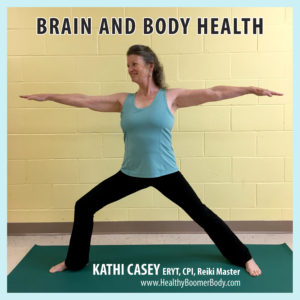 And, if you are stuck, let's use new Brain Science to get unstuck and make some good decisions. I can teach you how to get VERY clear on your goal, and then show you techniques and practices that will forge new pathways in your brain that will make it easier to accomplish that goal without the yucky feelings that you may be experiencing now. Want to know more? Check this video out.
There are a lot of mentors who're excited about neuroplasticity and what that means for living our best life. I mentioned Dr. Mark Hyman's upcoming program in my last post. This past week, John Asaraf (of The Secret fame), was promoting his program; JJ Virgin ran her program a couple of months ago. This new science is truly the way to go for changing behaviors that you don't want to keep in your inventory anymore, and making healthy habits that improve your life. See for yourself here!
Best of Health,
Kathi