Did you know that scientists predict that the number of people with dementia and Alzheimer's will triple in the next few decades?
The most important NEW information is that this is not a disease of age, or something that everyone just gets
In fact, memory loss is not a "normal" part of aging at all.
The bad news is that dementia actually begins when you're much younger and takes decades to develop.
So learning what triggers it, and understanding the root cause right now, is vital.
In the groundbreaking Broken Brain documentary series starting on January 17th, my friend and colleague, Dr. Mark Hyman has gathered leaders in healthcare from all over the world to share their cutting-edge information with you on dementia, Alzheimer's, brain fog, memory loss, and the very long list of brain issues that we "thought" were separate problems…
Your brain is a brilliant, powerful part of you, and it's very likely that it is deteriorating, just a little, every day.
Our toxic environment, nutrient depleted diets, and unrelenting stress affects our sensitive brains more than we can even imagine … EVERY single day.
Please click here and register ASAP to save your seat for the entire eight-episode documentary series, starting on January 17th at 6 pm ET.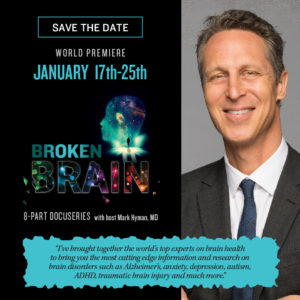 Dementia is NOT unavoidable. It is NOT just what "happens" to us.
We CAN change this. And remember, Broken Brain is NOT a disease of the elderly. Dementia actually begins when you're younger and takes decades to develop and worsen. Owning this series gives you the information you need to chart a new course NOW and create your best life down the road.
AND ownership also provides you with a great workbook to use and follow along with throughout the episodes.
Here's to your best life for the rest of your life.
P.S. Here's a list of ALL the episodes, to showcase just some of what you will have access to. Each episode is available for 24 hours, for free!
The Broken Brain Epidemic / My Story (January 17)
Gut Brain Connection: Getting to The Root of a Broken Brain (January 18)
Losing Your Mind (Alzheimer's, Dementia, MS, and More) (January 19)
ADHD and Autism (January 20)
Depression & Anxiety (January 21)
Traumatic Brain Injury: Accidents, Sports, and More (January 22)
7 Steps to An UltraMind (Part 1) (January 23)
7 Steps to An UltraMind (Part 2) (January 24)
Click here to watch this documentary series and become part of the solution.
Best of Health,
Kathi