This is a difficult time for all of us. It feels like the hate and violence is escalating, and peace of mind becomes harder to find.
I especially feel it right this minute as it has hit here, too close to home.
Last week a friend of mine set up a display of large round hay bales, wrapped in white, on one of the fields on his farm, next to the road. The two end ones were painted as American flags and the middle ones said "Biden Harris 2020." Someone set them on fire – in a hayfield, in a drought, in a neighborhood…
Thankfully, the farm workers noticed right away and between their efforts and the quick response of the fire department, a disaster was averted.
Also, thanks to the outrage of all our neighbors, friends, the social media calls for information, and the diligence of the police department, the culprit was caught, arrested and charged within 24 hours.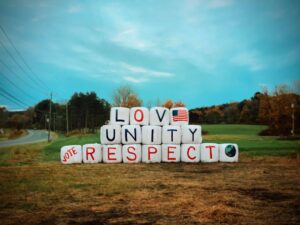 And so my friend Dicken Crane, of Holiday Farm, had a different version of his political endorsement back up the next day. We must not let the haters intimidate us into inaction. Good for you, Dicken!
The question now becomes, as we envision all the possible scenarios for the US presidential election on November 3rd, do we sink into fear, or add to the anger, or remain as peaceful as possible?
One thing is definite: there will be a lot of emotion surrounding the results, no matter what they are.
We are in a truly vulnerable and pivotal moment of history.
So, as we place our votes for president in the next few weeks, how can we also commit to a peaceful attitude – no matter what happens?
We slow down, take care of ourselves and our families, breathe deeply, meditate, exercise, eat fresh seasonal foods, hug our families, or the nearest tree, call a friend and talk about old times, and stay away from, or at least limit, watching the news. For our own health, it's important to keep as peaceful a mind as possible right now. When our mind is full of fear, anger, or sadness, we only add fuel to a fire that's already here, and we release a storm of stress hormones into our body.
My Yoga teacher, Swami Satchidananda once told a story about a cholera outbreak in India in which 1,000 people died. Five hundred died from cholera and five hundred died from the fear of cholera. I know that sounds crazy, but when we are living in fear or anxiety, our immune system becomes weakened. We must not go there.
Let's, instead, support each other, call each other, love each other, and face the hate with as much peace as we can find within us. Let's radiate health and peace into our communities and out into the world. It's the only way to survive this crisis.
Today I am enclosing a guided meditation, to help our bodies relax and our minds find peace. Please use it often in the upcoming weeks to keep yourself as healthy as possible, and share with your family and friends.
And please feel free to reach out to me if you want to talk. We are all going through the same storm. In different boats, yes, but the same storm is raging around us all.
Best of Health,
Kathi