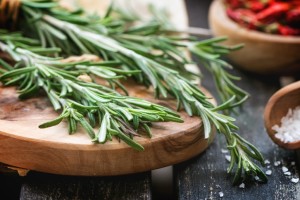 Here's a delicious recipe that includes Rosemary from Dr. Mark Hyman's book, "The Blood Sugar Solution."
Lemon Rosemary Chicken with Swiss Chard and Baked Delicata Squash
Ingredients:
2 Tbsp Extra Virgin Olive Oil
1 Delicata squash halved and seeded (I used Acorn squash)
1 Lg head of Swiss Chard roughly chopped
2 (6 oz) Boneless chicken breasts (I used boneless skinless thighs)
1/4 Cup Almond Meal
Salt and pepper to taste
1/2 Cup low sodium chicken broth
Juice of 1/2 lemon
2 Tbsp fresh rosemary, chopped
Preheat oven to 350

Brush the cut sides of the squash with 1 tsp of the olive oil. Place squash, cut sides down on a baking sheet and roast for 20-30 min. It's cooked when a knife slides easily into the flesh when pierced.

Heat 1 tsp oil in saucepan and saute the Swiss Chard 5-6 min until it wilts. Put aside

Lay out a piece of plastic wrap on the counter, place the chicken on top with another piece of plastic wrap over it and pound with a kitchen mallet until they are about 1/4 inch thick.

Sprinkle both sides of the chicken with the almond meal and salt and pepper to taste

Heat remaining oil in your saute pan over medium high heat, add the chicken and cook 5 min per side.

While the chicken is cooking, combine broth, lemon juice and rosemary in a bowl until well mixed.

When the chicken is golden brown on both sides and cooked well through, add the liquid mixture to the pan and reduce for 3-4 minutes.
Serve chicken on top of the cooked greens with the squash on the side. Yummmmmm!
Wishing you a delicious and healthy week!
Best of Health,
Kathi