Winter's first snow arrived last week here in the Berkshires. A pretty white blanket to cover the hard brown ground all around.
Remember when we were kids and we'd get so excited for the first snow? I remember putting on our snowsuits and running outside with my brothers to lie down in the snow and watch those big flakes come down, sometimes catching them on our tongues…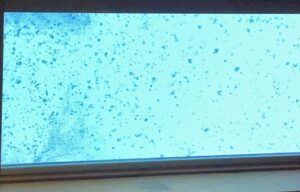 Here is a photo of how the older version of that kid watches the snowflakes. Lying down on my bed in my lovely warm bedroom, gazing at those big snowflakes coming down to land on my very large skylight. I must say that I enjoyed this just as much. And there was hot tea on the nightstand for when I was ready to sit up! I know the photo doesn't do it justice, but you get the idea.
Do you have memories like this one that can be upgraded for your older self? Reflect on that for a bit; I'm sure you can find at least one.
And, speaking of memories, this week's good news story is about a newly empty nested couple and the struggle that they went through to "downsize" their home – the home they bought when they married, and raised their children in, and was filled with memories. The best part of the story is what they realized when they were done. I hope you enjoy this story as much as I did.
https://www.upworthy.com/empty-nesters-downsizing-genius-tips
I started downsizing a few years ago and continue to let a little more go each year. It feels good. I feel like I can breathe better without all the clutter. Clutter isn't the right word, but I'm not sure what is. I used to have several pieces of furniture that had been in my family for generations. Neither of my children were interested in these, however, nor were nieces or nephews. Next, I tried cousins and found one cousin who wanted a chair that had belonged to one of my mom's sisters. My brother Pat took an accent table that had belonged to the same aunt. The rest have been sold or given away. Fortunately, I have photos and great memories of those family members long gone. Even my kids have some funny memories of "the aunts" as they aged. Like the time at the family reunion when aunt Belle took the food off her plate and put it in her purse to take home – not wrapped in foil or in baggies, just right off the plate into the purse. We still laugh at that memory sometimes. The connection that we feel when we all talk about that event and share a laugh is really what matters. Not the chair or the table, or the teacups, or the musical ashtray. The shared memories are what brings a smile to our faces and endorphins (feel good hormones) to our bodies.
There is more room in my tiny house now. Room for more memory making, more people to visit, more dancing in the living room, and more time for watching the sunsets. Ditch the stress hormones and enjoy life more!
So, if you've not started downsizing yet, give it a try – a little bit at a time. I'll bet you'll enjoy it more than you might think.
Since Christmas is coming up fast, I have prepared my gift certificates again. Shop local! Give your mom a Reiki treatment, or your sister a gift certificate for stress relief coaching, or your daughter a meditation course. The kind of gifts that keep on giving!
Contact me HERE for more information on gift certificates!
Below is a video reminder to take five minutes to lower your blood pressure and relax as this last month of 2021 speeds past us. Enjoy!
Best of Heath,
Kathi