Have you been diagnosed with Piriformis Syndrome?
Do you have Sciatica and are not sure of the cause?
Let me tell you a story about a really thick muscle that can cause a lot of misery if you don't take good care of it.
The Piriformis stretches from the bottom of your hip, across the center of your butt cheek, to the lower spine. We use it to rotate our hip and to turn our leg outward. It sits on top of a section of our sciatic nerve. So, if you've ever had sciatic pain, you know how debilitating it can be. That nasty pain travels from your lower spine, all the way down your leg when it's tense or tight, and you're in excruciating pain – right?!
It's not so hard to keep your Piriformis strong and flexible, though.
Here's a massage that will help to relieve your pain:
Place a ball or your fist under the butt cheek of your extended left leg. Place your right foot on the floor, bend the right leg, and use your right foot to roll yourself around on the ball until you feel the exact location on your butt cheek where the pain is most intense. Massage that area until the pain lets up. It will be painful while you are rolling on that spot, but breathe deeply and keep going, you'll be glad you did! I don't recommend tennis balls because they're too hard, so try something softer, or use your fist. Make sure that you always massage both sides – even when your pain is only on one side. When one side is more flexible than the other, you will have pain, so fixing one will throw the other side off.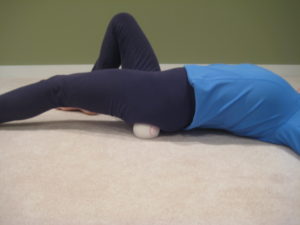 Another great stretch to keep your piriformis flexible and healthy is Sleeping Pigeon.
 Here is a link to that one.
These are both simple things you can do every day in order to prevent that terrible pain from interfering with your life. You deserve to be pain free!
Let me know if you have any questions about these or other exercises for sciatic pain.
Best of Health,
Kathi