The holidays are here! Are you ready for Italian cookies, fruit cake, egg nog, latkes, candied yams, or one of my favorite holiday traditions, my sister's, pecan tassies? Wow, that's a whole lot of extra calories!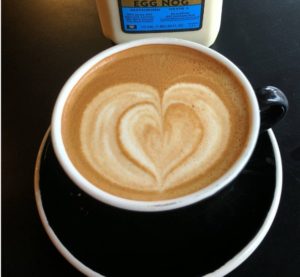 I don't deny myself, and it's not necessary for you to, either; just use a bit of restraint. Instead of a piece of pumpkin pie AND a couple of cookies, try one or the other. Or maybe a smaller portion of each… But you already knew that, didn't you! If I am travelling from house to house on a holiday walk about, I'll have a small meal portion at each stop, but eat dessert only once. Truly this is the best way to enjoy the holidays without feeling as though you overindulged, or deprived yourself.
A popular item on most holiday menus that adds on the calories, without nutritional value, is alcohol. Holiday egg nog with rum is a big time weight gainer! I drink my "soynog" with a bit of coffee or chaga tea (no booze) and limit myself to one a week between Thanksgiving and New Years. There are many other non-alcoholic options as well. Try a pink grapefruit "margarita" made with pink lemonade, grapefruit juice, and a twist of lime. Add a bit of sugar to the rim of the glass instead of the salt and voila, festive without side effects, and far less calories! How about a cranberry, pomegranite "Bellini"? Mix both juices, add seltzer water, a twist of lime, and enjoy! In fact, many festive drinks can be made with a bit of your favorite fruit juice, seltzer and a twist of lime. Try to reduce your consumption of high sugar alcohols this year and see for yourself how much fun it can be!
If you make a few small adjustments here and there throughout the season, you'll still enjoy this time of year, yet have less to lose in January. When you pay attention to what you eat and drink, you won't worry as much about a few extra pounds. I usually add about three pounds during the season, and I have no problem taking them back off after the first of the year. Yes, Virginia, you CAN enjoy fun and festive food and drinks without guilt.
Gifting can also be a hassel for some, and let's face it, we have enough stress in our lives without the pressure of finding the right gift for Aunt Sally. I enjoy shopping for the perfect gift, but I know not everyone does.
If you are looking for that hard to figure out gift for a friend or family member who doesn't seem to need anything, then try donating to a charity in their name! It's a wonderful idea and most definitely a gift that they won't have to worry about exchanging for a different size! I have started doing this in recent years and hope it catches on as a new family tradition. There are so many people in need right now. The water protectors at Standing Rock, refugees fleeing their war torn homelands, wildlife that is endangered, veterans in need of meals and clothing. Pick your favorite and both you and your gift recipient will feel good about the gift.
Best of Health,
Kathi