Yes, Change can be difficult. Add social distancing for six months to that formula and what do you get? GRUMPY!
I am not as technology friendly as I would like to be. So, when my web site or newsletter site "upgrades," as they have in the last couple of weeks, and I start my learning curve all over again, I am not fun to be around.
What I discovered during these last couple of weeks is that I run out of patience much easier than I used to. I also cry more, curse more, and I'm grumpy. YIKES! I don't want to be any of those things, but the effects of social distancing for so many months have taken their toll. I am a hugger. Hugging everyone has not happened in six months and my body feels tense. There are also the favorite restaurants that I miss. Yes, they do take out, but for most of those places it's the ambiance I love the most. And, in teaching Zoom classes, I see and chat with everyone, but there's no more going out to lunch after class, or walking before class, etc…
I've included a photo of me hugging a special tree that we discovered, in a churchyard, on one of my walks with my friend Nitti, who took this beautiful photo on our nature walk. Thank you, Niti, and thanks Mother Nature!
Lots of routines have changed for me and for all of us, and this epidemic is still not done, so – what's a person to do to keep from going batty?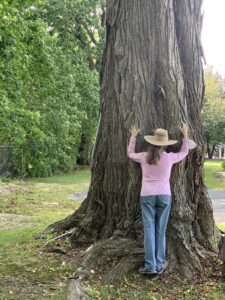 Here are some of the new routines that I've decided to incorporate into my life:
Hugging – Ned and I have set aside several times a day on our weekends for long, deep hugs. The first time we did this, I noticed right away that my shoulders dropped back down where they belong, and my whole body relaxed as all that tension dropped away. Ahhhhh.
Getting together with friends – One of my friends had a brilliant idea! Several of us are planning to meet at 3 pm on Sundays at one of our houses. We'll sit outside, be socially distant, and maybe have a campfire. Each of us will bring our own food and drink and chair, and we'll spend a couple of hours catching up. So far, four of us have agreed to meet. It will be fun, at least for a few weeks until winter arrives.
Eating out – I went for a ride the other day and drove by several restaurants. Most of them have put up tents, picnic tables, and even blocked off part of their parking lots to set up some tables and chairs for outdoor eating. Even though it's starting to get a bit chilly, I'm sure there will be a few nice days in the weeks ahead and we'll just wear jackets and our fleece lined pants and sit outside for a lovely dinner.
Laughter is the best medicine so call a friend or family member to tell them a joke. Or start a watch party on Facebook for a funny video, or rent a comedy movie, make some popcorn, and laugh with your family! Pick up some funny note cards and send a note to an elderly relative or neighbor that you can't visit. Find as much laughter as you can, as often as possible, and share it!
The best thing about these new routines is that it feels like SOME PROGRESS! Even if it's a bit chilly, or we have to wear gloves while we eat, we're looking at it as a new adventure and it will be fun! Our plan is to have as much fun as possible in whatever ways are safe and possible. And, taking some advice from my friend Arielle Ford, I also plan to "give myself the space to be royally pissed off from time to time."
What new routines and fun activities can you schedule into your week to improve your mood?
Share what you come up with and I'll post them in another newsletter for all to enjoy!
Let's help each other figure this out and support each other in every way possible. That's how we'll get through this.
Today's video is my hummingbird's last fill up before her long trip south for the winter. I hope it brings a smile to your face.
Best of Health,
Kathi