Thank you for sharing your lovely sunset photos! Wasn't that fun? It was difficult to choose, but, the winning photo is below – Congratulations Johanna Dube! I'll get an autographed copy of "STOP Back Pain!" out to you right away.
Lately, lots of people are asking about brain health, and foods that might be helpful. So, here are some fresh and in season (here in New England) foods that benefit our brains. They also taste delicious!
When I was in training for my Yoga certification, Swami Satchidananda advised us to eat seasonal vegetables and fruit, as that's what our bodies want and need. I have done that since then, for the most part, and I find that my body definitely wants more fruit, summer squashes and greens in the summer, and more potatoes, carrots and turnips during winter.
Blueberries are in season now and they are jam packed full of several different types of antioxidants, like anthocyanins. Anthocyanins are what gives blueberries their beautiful color. Blueberries also contain Gallic acid, another antioxidant which has been linked to neuroprotection. Their chlorogenic acid content is another plus, as studies on this compound suggest dietary consumption of it could help reduce the risk of developing neurodegenerative diseases.  If you would like more information on types of blueberries, or growing your own, check out Blueberries 101!
Wild blueberries are my favorite and they're available year-round in the frozen foods section of your market. Tests on adults using wild blueberry juice found improved cognition, especially memory, word recognition, and learning abilities, in those who consumed blueberry juice. While this was a small study, and more testing is being done, there is no harm in making blueberries a part of your daily diet! And SHARE this info with family and friends! The next time you're invited to brunch, bring a big bowl full of wild blueberries, some nuts, and a container of yogurt for people to help themselves. They will if it's what's there and this is much healthier than bagels and cream cheese!
Arugula and other leafy greens are also summer favorites of mine which have nutrients that our brains need. One reason for this is the isothiocyanate content—a naturally occurring plant compound with anti-carcinogenic and anti-inflammatory qualities. One study found "Isothiocyanates (ITCs) could be regarded as a promising source of alternative medicine for the prevention and/or treatment of neurodegenerative diseases." They are known to activate the Nrf2/ARE pathway that fights oxidative-stress induced damaged to neuronal cells. Arugula also happens to be rich in vitamins K, A, folate, and beta-carotene. That's what I like, multiple benefits! Wow, a "super power" in a vegetable!
Avocados are one of my favorites all year round! You've most likely heard me talk in previous posts about their former bad rep, because of a high fat content, but how this tasty treat is actually a "good fat." Not only are they good for us, but, in fact, essential for our brain health! Avocados are chock full of monosaturated fats, the good fat, which helps keep sugar levels steady, as well as improving brain health! Since avocados also contain vitamin K and folate, avocados help prevent blood clots in the brain (protecting against stroke) as well as helping to improve cognitive function, especially memory and concentration. They're also rich in vitamins B and C, which our bodies don't store, so we need to eat foods that contain these vitamins every day.
Happy Healthy Brains can be ours if we know how to treat them well, and nourishment is one way.
Spending time in nature is another…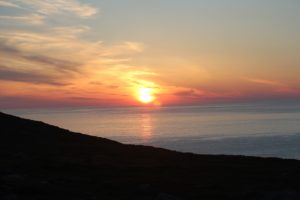 Best of Health,
Kathi