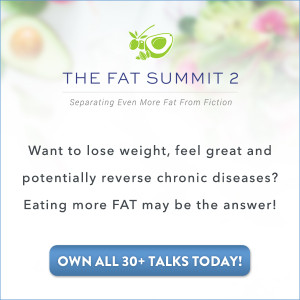 Dr. Mark Hyman's Fat Summit 2 begins on November 7th, and tens of thousands will listen to experts as they dispelled the biggest MYTHS about eating fat, and revealed the latest research about how to eat, move and supplement your diet for improved health (and to possibly prevent/reverse chronic diseases!).
Will you be there?
Dr. Hyman's first Fat Summit was a major hit–The Fat Summit 2 has 30+ brand NEW interviews during which you'll discover even more about…
Biohacking your biology and weight loss with healthy fats

Truths about saturated fat, cholesterol, butter, sugar, carbs and more

Review and discussion of the latest articles on fat and weight loss

Digestion of fats through supplementation

Effects of dietary fat on fertility

Importance of community for making/sustaining healthy lifestyle choices

How eating more fat complements/combats other dietary approaches

Best practices for maintaining your weight and healthy eating habits
Register HERE now to make sure you'll see the free talks:
OR, purchase all of the expert talks (price GOES UP when the event STARTS on MONDAY) Click HERE to order your copy!
Once you own the expert talks, you can listen to the audios on your computer or mobile device, read the complete transcripts and share this important information with family and friends. Owning the talks also gives you access to eCourses, guides, eBooks and other advice from the expert speakers, at no additional charge!
If you learn even one fact from one expert that changes your life, it will be worth it!
The online access package for all of the expert talks is $79 now through Monday, Nov 14 at 10 A.M. U.S. eastern.
After that, it increases to $99.
See you at the summit!
Kathi