Nothing beats a 4th of July grill fest! 
Someone always brings a pie or cake decorated as a flag…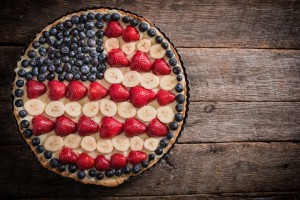 BUT, my favorite is grilled peaches. So sweet, juicy and delicious!
Try them and you'll be hooked too!
Grilled Peaches – Yummmmmmm!
Ingredients:
4 ripe peaches, cut in half with the pit removed
2 TBSP Butter
2 tsp cinnamon
2 TBSP coconut sugar, or honey if you prefer
Preparation:
In a small saucepan, heat the butter, honey and cinnamon until it boils. Let it simmer for about 5 minutes.
Make sure you grill is very hot and oiled, then brush the peach halves with the butter and sugar mixture
And gill for about three minutes on each side. Yummmmmm!
Each serving has approx : 160 calories (70 from fat), 8g total fat, 5g saturated fat, 1g protein, 19g total carbohydrate (2g dietary fiber, 17g sugar), 20mg cholesterol, 0mg sodium
If you want to be really decadent at 4th of July or a birthday party – serve the peaches over coconut ice cream, or Greek yogurt  Wow!
Best of Health,
Kathi