Whether we like it or not, the times they are definitely changing! In fact, sometimes it feels as though changes are happening so fast that it's impossible to keep up. Some changes are long overdue though, and here's an example.
I am rarely ever sick. Not sure when the last time I had an occasion to visit an Emergency Room, but I do know that for most of my life, if you were injured or sick in the evening or on the weekend, your only option was going to the ER. One trip that is indelibly marked on my brain is when my daughter was about 6 or 7, she was attacked by a dog. Scary? Oh, my, yes.
I remember calling to her out my kitchen window to come in for supper, and then being horrified as she walked past this dog who went for her throat – HER THROAT! To this day, I swear that I grew wings in that instant, as I did not touch one step in running down from my second story deck to get to her. I must have screamed her name (quite loudly) as many neighbors came running out of their houses as well. I scooped her up from the ground, as the dog's owner yanked the dog off her, and ran with her in my arms back to my steps, where I sat in shock, looking at the blood all over her. Fortunately, the dog had only managed to rip a small bit of her ear off and scrape the side of her head, but those are body parts that bleed excessively, so she and I were both covered with blood in seconds. One of my neighbors had already called an ambulance and others were busy getting a cold cloth for me to press on Loretta's ear, offering to wait for my son to get home from baseball practice, etc. I have always been blessed with great neighbors!
The EMT's arrived in no time flat and we went off in the ambulance to the ER. The time that lapsed from the moment she was bitten until we arrived at the ER was probably less than 30 minutes. The time we sat in the ER waiting to be seen and stitched up, however, was more than 8 hours. I phoned my parents from a pay phone in the waiting room (this was before everyone had cell phones in their pockets) so that Loretta and I would have a ride home when we were done.  All of us sat there hour after hour waiting. Eventually, a resident in plastic surgery came and sewed her ear together. I was glad that this was his specialty, because to this day Loretta has no scarring on her ear or face. The time we were left waiting there was insane, but, it was the way it was back then. We all knew that and so we waited.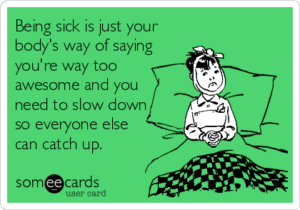 Fast forward to a couple of weeks ago. I am sick with a cold that keeps on going like the energizer bunny, and I'm coughing up a lung. So, Thursday evening I decide to stop in at the MedExpress in Westfield. I go in and fill out the paperwork, sit in a lovely waiting room for less than an hour, am seen by a nurse and then a doc, diagnosed with an ear infection and bronchitis, then sit with the PA for a few minutes discussing my options for antibiotics – yes, I said discussing my options. I AM the CEO of my own health care. She ordered the one we decided on, suggested a cough syrup with a small amount of codeine to help me sleep, which we again discussed until I agreed, and I was on my way to the pharmacy and home. Niiiiice!
This is a case where I am delighted with the times that have changed. MedExpress' are popping up everywhere these days, and they take all insurance plans, and even offer a self-pay option for those without insurance that is affordable for most. How refreshing! Not only are they helpful and friendly AND they spend more than 15 minutes with you, the next day I got a follow-up phone call from the PA, wanting to know if I had any questions or wanted to discuss anything. Wow!
And this brings me to the really exciting news today. My web site (www.HealthyBoomerBody.com) has, at last, arrived into the 21st century! No more looking like it's 1999. A lovely new theme and redesign has been completed by the talented and creative https://courtesyadmin.com/. Loretta is FABULOUS! I can't recommend Loretta and her team highly enough. Please check them out if you are thinking of making changes to your site!
I would also appreciate some feedback on my new site, so let me know what you think. Look at all the pages and see what's new and different. Let me know if I spelled anything wrong, or forgot a word, because you know there's a mistake in there somewhere!
Meanwhile, here are a couple of hospital/doctor funnies to keep you smiling!
A sign on a cosmetic surgery clinic says:
"If life gives you lemons, a simple operation can give you melons."
A proctologist had been in practice for 20 years and had settled into a very comfortable life with his future very secure. So, he decided to fulfill his REAL dream and become an auto mechanic. Having entered mechanic school, the former physician received the results of his first test back with a score of 200%. Confused, he asked the teacher why his score was so high.
"Well", said the teacher, "The first part was taking the engine apart and you did that perfectly, so you got 50%. The second was to put it back together again and you did it perfectly and got another 50%. The other 100% was for doing it through the tailpipe."
**These first two are from the AIMS blog, and the next one is from Dave Barry, in the Miami Herald
Colonoscopies are important medical procedures that have saved lives. And yet they're as popular as, well, a colonoscopy. Here are comments purportedly made by patients to physicians during their procedures.
"Now I know how a Muppet feels!"
"Could you write a note for my wife saying that my head is not up there?"
"Any sign of the trapped miners, chief?"
Keep on smiling!
Best of Health,
Kathi