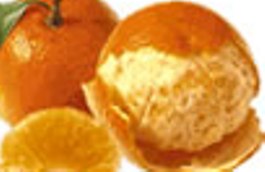 I have tried this tea and it's delicious!
Peel an organic tangerine taking care to retain the white pith. Let the peel dry naturally, over night. Insecticide sprays are widely applied over citrus crops, so organic fruits are best. In fact, anytime you need the peel or zest of a citrus fruit, it's a good idea to go organic.
In the morning, boil a cup of pure water, tear off a couple of small pieces of the dried Tangerine peel and place in the cup of hot water and seep for 2-3 minutes.
You can also make a pot of this tea and then cool it for a lovely cool citrusy delight after a day out in the hot sun.
Dried tangerine peel will last for at least two months if kept in a dry sealed container and store it in a dark, cool place. The skin inside tangerine peels contains large amounts of hesperidin. Hesperidin is a flavonoid responsible for lowering cholesterol and blood pressure. The highest concentrations of other healthy compounds such as tangeretin and nobiletin are also contained in the skin of the peel.
A Canadian study publicized in 2004 showed that tangerine peel has 20 times the antioxidants than found in the juice and helps lower LDL (bad) cholesterol.  According to Master Lin of Spring Forest QiQong, the peel of an organic tangerine also helps, relieve stress, detoxify the liver, balance blood sugar. Nice!
A May 2011 study published in The journal of the American Diabetes Association, found that a flavonoid in tangerines called nobiletin significantly reduces the risk of metabolic syndrome and prevented obesity in a group of rats eating a Western diet high in fat and sugar. According to the researchers, nobiletin inhibits the genes responsible for producing fat. I recommend including one in your daily smoothie!
A powder can also be made by drying the skin inside the peel of a tangerine which can then be added to your daily smoothie to boost the nutritional value of your drink and allow you to maximize the nutritional benefits AND eat the entire tangerine.
Best of Health,
Kathi