I am excited to say that I have planted my garden this year BEFORE Memorial Day! Can't remember ever doing that before; hope that means an early and fruitful harvest…
May is the month for gardening in the Berkshires. And, once again this year, most of my friends and neighbors are walking around with stiff backs from all the weeding, tilling, planting, etc. Each spring I find time to remind everyone of the single most important way to help your back when you know you have done too much – RELAX!
This is the only position which will relax all the muscles along your spine at the same time. Do it every day for at least 5 minutes to reduce that tension and give your back a break. You'll be glad you did!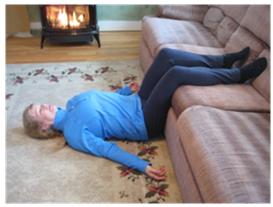 Make sure that your butt is right up against the couch, with your calves resting on the seat of the couch. If your neck is arched up, you can place a small pillow or folded towel under your head (not under the neck) so your neck is also resting. For more information, or to purchase my Amazon bestselling book STOP Back Pain, click HERE!
Please take time to remember the reason for this holiday. Stop during your activities, for a moment of silence, for all those who have given their lives so that we can live free and safe!
Wishing you a happy and safe Memorial Day!
Best of Health,
Kathi