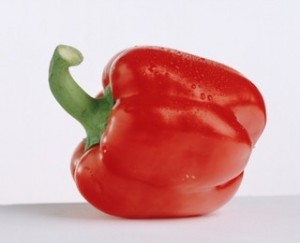 One of my favorite fall foods is Polenta. Polenta is made from dried corn kernels that have been ground up. It is cooked until thick and served hot, or cold. Roasted red peppers have a sweet, smoky flavor which is perfect for combining with the mild-tasting Polenta.
Red peppers are rich sources of lycopene, a carotenoid that helps reduce the risk of several cancers, including prostate, bladder, cervical and pancreatic.
Ingredients:
3 cups water
1 cup cornmeal (polenta), medium ground
1 teaspoon salt
1/4 cup freshly grated Parmesan or Pecorino cheese
1/8 teaspoon Tabasco
2 shallots, peeled and roughly chopped
3 large red bell peppers, seeded and sliced about ¼ inch thick
1 1/2 tablespoons extra-virgin olive oil
Salt and pepper to taste
Preparation:
Prepare the polenta per package instructions.
Brush a little olive oil over the bottom of a casserole dish and place the peppers inside. Cover and bake for 15-20 minutes until they become soft. Let cool first, then put the peppers in a food processor and process until smooth. Add the olive oil, Tabasco, shallots, basil and cheese and process until thoroughly blended.
Spread a little more olive oil onto a baking sheet and place the polenta pieces on the sheet, leaving space around each one so that the edges can crisp.
Bake in 350 degree oven for 15 minutes, or until browned.
To serve, place polenta on a platter with roasted pepper mixture on top and sprinkle with a little more of the grated cheese.
Yummm! 110 Calories, 10.4g Fat, 0.8g Protein, 4.2g Carbohydrate, 0mg Cholesterol, 0.5g Fiber
Best of Health,
Kathi