Here are a few more steps that you can take to start 2014 off on the right foot and keep it going!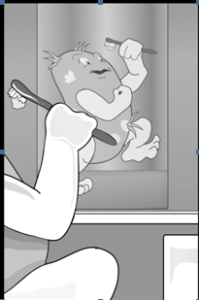 1.  Brushing your teeth can be a fabulous time to plan a little aerobic exercise. You brush at least twice a day, and most of us also floss, so there's 3-4 minutes where you can do a little jig, or march in place, or do some squats. Simple, yet think of how much time you'll have worked out at the end of the month when you make this 4 minute routine a habit! 
2.  How often do you talk on the phone? I know that many people text instead of talking these days, but for those of us who prefer hearing a voice, use your speaker or a headset and do some wall push-ups, lunges or squats while you are on the phone. Making this a habit will take some effort for the first couple of months of the year, but it's well worth the effort! Before you know it, you'll be working another ten minutes or more into your daily routine, and your body will love it!
3.  Why not start a new family tradition? If your kids are grown and it's just the two of you now, you'll get a chance to talk about your day, discuss vacations, dreams, plans, etc. while walking through the neighborhood. Start with just 20 minutes every other day. It'll be the best 20 minutes of the day and you'll be delighted with your progress! 
If you have kids at home, have them put the smart phones down and walk with you or ride their bikes. It's only 20 minutes. They can handle that!
Use your own creativity and come up with more ideas where you can "fit fitness" into your daily routine. And let me know about them!