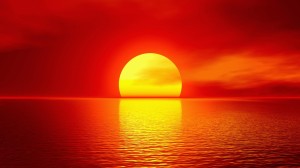 When Mother Nature pours on the heat, there's nothing I like better than a cool, refreshing smoothie!
I know some of you would rather have an ice cream cone, but give this smoothie a try before you give up on them completely and run out to the "Ding Dong cart."
This smoothie uses frozen banana chunks, which can be made any time you have a banana or two that are starting to get brown spots (this is the time when they are the sweetest). Simply peel and cut them into chunks that fit into an ice cube tray, freeze them and then remove from the tray, place in a freezer bag and toss them back in your freezer until you're ready to use them. Frozen bananas will keep for about three months.
This smoothie also has no dairy in it, yet tastes creamy and delicious. Give it a try and let me know what you think.
1 ½ cups frozen blueberries (or strawberries or any berry that you like)
1 cup frozen banana chunks
½ – 1 cup almond or coconut milk
Use stevia to taste if you need sweetener
Combine all of your ingredients in a blender and process until smooth. Stop the blender every once in a while to scrape down the sides and push any of the unblended fruit into the blades with a rubber spatula. If you like a thicker smoothie, use less almond milk, a thinner one, use more. Play with it till it's just right for you!
This wonderful treat has only 213 calories per 8 oz. serving, and depending on which non dairy milk you choose, less than 2 grams of fat. A much healthier alternative to the same amount of regular vanilla ice cream which has over 500 calories and 34 grams of fat…
Enjoy this heavenly summertime drink!
Best of Health,
Kathi