This is one of my favorite recipes for Brunch on New Years Day!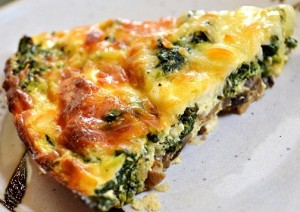 4 Large eggs
1 cup crumbled Feta cheese
1 lb Ricotta cheese (I use sheep's Ricotta)
1 large red onion, thinly sliced
1 cup of shitake mushrooms
1 red pepper
1 cup shredded zucchini
1 lg. bunch of fresh spinach
3 crushed garlic cloves
1 tsp. fresh ginger (crushed)
dash of turmeric
salt and red pepper to taste
Lightly sauté red pepper, onion, mushrooms, zucchini and garlic in oil. At the last minute add the spinach just to wilt it a little.
In separate bowl beat eggs with Ricotta cheese, salt and pepper.
Add the sautéed vegetables and the Feta cheese to the egg mixture and mix until well blended
Pour into greased 9 inch tart pan or pie dish.
Bake in 350 degree oven for 1 hour.
Cool 10 min before serving.
Best of Health,
Kathi