Freezing Rain, Snow, Sleet, Wind – Winter has arrived…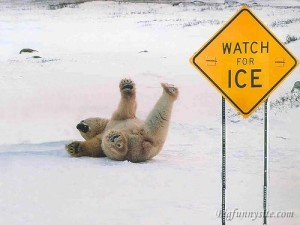 Seems a bit early this year, but perhaps it's just that I'm not looking forward to several more months of this. 🙁 While we don't actually hibernate like bears, there are some things we can do to prepare ourselves for the long winter months. Here are a few that you can start today!
Firstly, don't think that just because it's cold outside you don't need to drink as much water. You do, indeed, need to hydrate, even more so in winter months when harsh, dry heat zaps our fluids. I usually switch to warm or room temperature water during the winter as cold water doesn't seem to go down as well.
Secondly, get enough rest. Our bodies need regular sleep time to restore energy reserves. Guided meditation also counts, so take a break during your busy day and relax your body with this invigorating ten minute guided relaxation practice.
Best of Health,
Kathi