Fitness Products
Want to go "All in?"
Kathi's Ultimate Pilates Program is the most complete pilates program on the market today. She demonstrates many modifications so anyone can do these essential core strengthening exercises. Includes Beginners, Intermediate, and Advanced programs as well as her "Acu-Pilates" Program, a one-of-a-kind program of Pilates exercises combined with Acupressure points to help balance your immune system. All 4 of Kathi's DVD's and beginners eBook, on sale now!
Click Here for more info, or 

ON SALE - ALL 4 for  $12.00!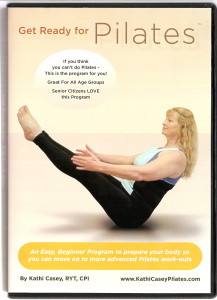 Best Beginners Fitness Program Includes 2 DVDs, 4 audio downloads, print book, eBook, and Silk Eyebag –the Complete Newbie Exercise and Relaxation Program is only $35.97!
Click Here for more info, or
 $35.97
Get Off The Couch, Potato! on sale now for $4.99! Kathi Casey's Powerful, yet easy 30-day fitness plan is on sale now! The perfect solution for over-worked parents, television-addicted teens, out of shape Boomers, and more. Click Here for more info, or
On sale $4.99!

Get Ready for Pilates - The Complete Bundle $15.97
Kathi Casey's Complete "Get Ready for Pilates" Program includes her full length DVD, Kathi's easy to read eBook, and 4 mp3 guided relaxation downloads. Click Here for more info, or
 
      $15.97
Each of my Pilates DVD's is sold separately as well:
Beginners Pilates DVD and eBook
$9.97
Intermediate Pilates

$7.97
Advanced Pilates
 $7.97

Pilates with Acupressure
 $7.97